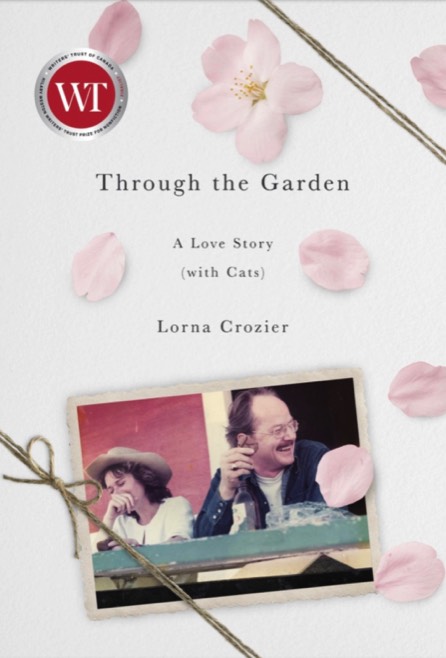 OCTOBER 2020:
Through the Garden
a finalist for the 10th Annual Hilary Weston Writers' Trust Prize for Nonfiction
Available now as hardcover, e-book and audio book (read by Lorna Crozier).
THROUGH THE GARDEN
For details and to order, visit Penguin Random House Canada.

A powerful, deeply affecting portrait of a long marriage and a clear-eyed account of the impact of grief, writing as consolation, and the enduring significance of poetry from one of Canada's most celebrated voices.
When we ran off together in 1978, abandoning our marriages and leaving wreckage in our wake. I was a "promising writer," Patrick had just won the Governor General's Award. I was so happy for him, and I've continued to be every time an honour comes his way, but I knew if I didn't grow, if I remained merely someone who showed potential, we wouldn't last. I swore I wouldn't play the dutiful wife, cheerleader, and muse of the great male writer, and he didn't envision a partner like that. We aspired to flourish together and thrive in words and books and gardens.

When Lorna Crozier and Patrick Lane met at a poetry workshop in 1976, they had no idea that they would go on to write more than forty books between them, balancing their careers with their devotion to each other, and to their beloved cats, for decades. Then, in January 2017, their life together changed unexpectedly when Patrick became seriously ill. Despite tests and the opinions of many specialists, doctors remained baffled. There was no diagnosis and no effective treatment plan. The illness devastated them both.

During this time, Lorna turned to her writing as a way of making sense of her grief and for consolation. She revisited her poems, tracing her own path as a poet along with the evolution of her relationship with Patrick. The result is an intimate and intensely moving memoir about the difficulties and joys of creating a life with someone and the risks and immense rewards of partnership. At once a spirited account of the past and a poignant reckoning with the present, it is, above all, an extraordinary and unforgettable love story.

Told with unflinching honesty and fierce tenderness, Through the Garden is a candid, clear-eyed portrait of a long partnership and an acknowledgement, a tribute, and a gift.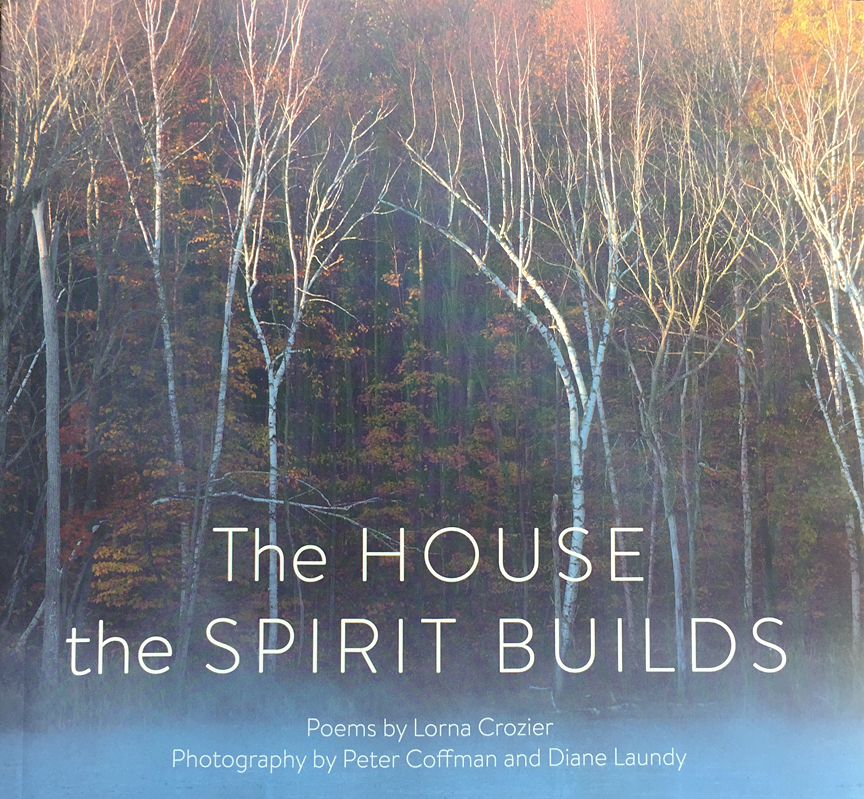 The House the Spirit Builds
(2019) explores human-crafted and natural landscapes from a variety of angles. An image of a slice of light falling across a tablecloth, three oranges in a red bowl, a black beetle on a leaf: poems that speak of moments "when the dragonfly lands and grips the skin / on the back of your hand" or "rain stops falling / but / hangs around / like the shape of lust / in bedsheets"—the impressions and expression vary, but all are informed by sense of place and aim to take understanding to a more visceral plane.
from
Douglas & McIntyre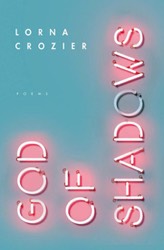 God of Shadows (2018)
The poet Lorna Crozier has always been brilliant at fusing the ordinary with the other-worldly in strange and surprising ways. Now the Governor General's Literary Award-winning author of Inventing the Hawk returns with
God of Shadows
, a wryly wise book that offers a polytheistic gallery of the gods we never knew existed and didn't know we needed. To read these poems is to be ready to offer your own prayers to the god of shadows, the god of quirks, and the god of vacant houses. Sing new votive hymns to the gods of horses, birds, cats, rats, and insects. And give thanks at the altars of the gods of doubt, guilt, and forgetting. What life-affirming questions have these deities come to ask? Perhaps it is simply this: How can poems be at once so profound, original and lively, and also so much fun?
from
PenguinRandomHouse.
What the Soul Doesn't Want (2017)

In her newest collection, Lorna Crozier describes the passage of time in the way that only she can. Her arresting, edgy poems about aging and grief are surprising and invigorating: a defiant balm. At the same time, she revels in the quirkiness and whimsy of the natural world: the vision of a fly, the naming of an eggplant, and a woman who — not unhappily — finds that cockroaches are drawn to her.
"God draws a life. And then begins to rub it out / with the eraser on his pencil." Lorna Crozier draws a world in
What the Soul Doesn't Want,
and then beckons us in. Crozier's signature wit and striking imagery are on display as she stretches her wings and reminds us that we haven't yet seen all that she can do.
COMMENTS
"New poems by Lorna Crozier are always a reason for rejoicing." — Globe and Mail
"a late-career highlight… [Crozier] can speak for the inanimate with whimsy and empathy, knows when and how to conjure sensuality, and can sneak in an emotional payload." —Quill and Quire
Click here to visit Broadview Press, Freehand website.
The Wild in You: Voices from the Forest and the Sea
(
2015)

A gorgeous and stirring collection of photos and poems from photographer Ian McAllister and Governor General's Award-winning poet Lorna Crozier that reveals how the startling wildness of the natural world is mirrored in the human heart.


Praise for
The Wild in You

"Each poem and photograph in this book honors the patch of Earth we have carved our home in; its squelch of mud, whale song, the berry balanced on a white bear's tongue. Together, Crozier and McAllister crystallize an ecosystem as powerful as the grizzly bear and as fragile as a crane fly's wing." —Eliza Robertson, author of
Wallflowers