Annual Springsong Pelee Island Bird Observatory Gala
Margaret Atwood hosts our Annual Springsong/PIBO gala event this year in a new, exciting, and unique format!! An evening to remember!!!
Live from our home to yours with birds, authors and a rubber chicken choir!
Please join us on May 9th from 7-8:30 EST on Facebook live for our very first and maybe last online gala event. Featuring Margaret Atwood, Lorna Crozier, Trevor Herriot, along with an online auction featuring items you won't see anywhere else, a rubber chicken choir led by Margaret and friends and some special guests!
This event combines two fundraisers for the Pelee Island Bird Observatory and the Pelee Island Heritage Centre, which were both cancelled due to the COVID-19 pandemic. Luckily, we have some very creative minds in our midst, and we have come up with a fun and unique evening that you can participate in from your isolation location!

For $85 you will get:
A live-streamed event that will feature poet Lorna Crozier in Victoria B.C, author Trevor Herriot out of Saskatchewan and Canada's literary star, Margret Atwood from her kitchen. The host for the evening is Windsor's own Paul Vasey with Kim Gardner and Ron Tiessen representing the Pelee Island Heritage Centre from Pelee Island. Door prizes will be drawn randomly by Kim and Paul, and all those who have rubber chickens will join in on the chorus with Margaret and friends. A book by Margaret will be available for all ticket holders. Author Merilyn Simonds will present a custom menu designed just for this event. Each recipe was selectivity chosen by the staff, board and friends of PIHC and PIBO. Ticket holders will receive the e-book with photos, stories and the recipes.
Some special secret guests will join the evening, but it is top secret, so you will have to wait until the night to find out!
The online auction will be available for one week before the event and one week after (May 2-16) on the Facebook gala page.
Welcome to the 2020 PIBO Virtual Gala Self-Catered Dinner!
Choose-your-own meals!
No platter passing!
Eat dessert first!
Springsong Guest Authors and Guest Birders and friends have opened their recipe boxes to help you prepare a delicious meal at home to eat during our Virtual Gala. Instead of cooking from a set menu, we've left the choice up to you. Select what most appeals to you from the
Drinks Tray
, the
Bread Basket
,
Starters
,
Soups & Salads
and
Mains
, where we offer Chicken, Fish, and Vegetarian or Vegan options. And don't forget
Dessert
! In fact, you can skip the mains and make a meal of starters and dessert—or soup and bread. At this Gala dinner, the choice is entirely yours.
For example, you could bake this bread.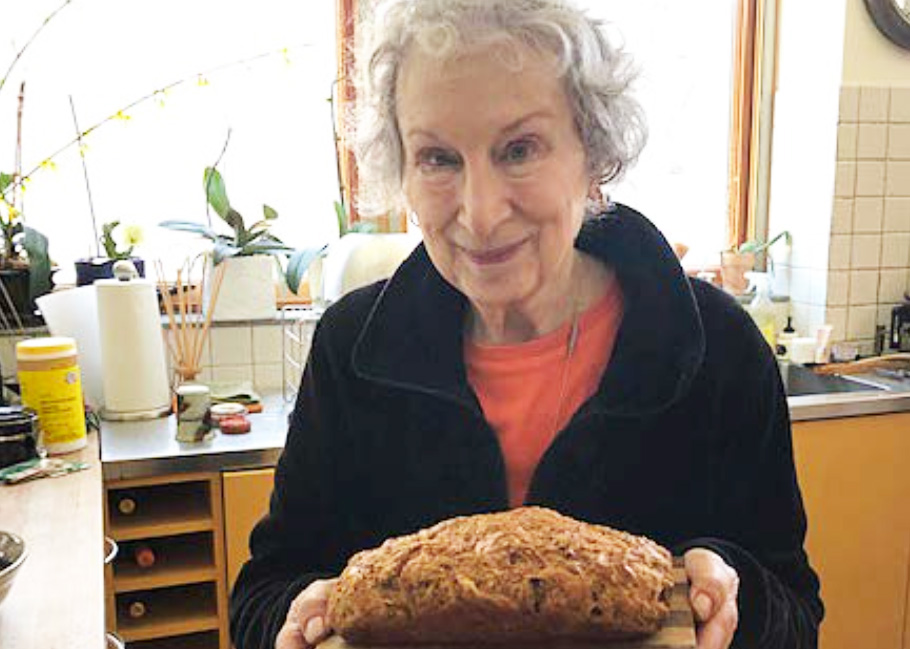 Nova Scotia Oatmeal Bread

Margaret Atwood still makes this tasty loaf, a favourite of her mother's, who was from Nova Scotia, where, Margaret says, " ere are always lots of molasses and oats." A 1930s East Coast wife would have used her bread bowl, a sturdy wooden spoon, and lots of elbow grease. A stand mixer with a bread hook works well, too.
Click here for recipe.